59th SICM Congress "Hand, Movement, Regeneration. The restart congress" Ancona, 14-16 October 2021
12/10/2021
Events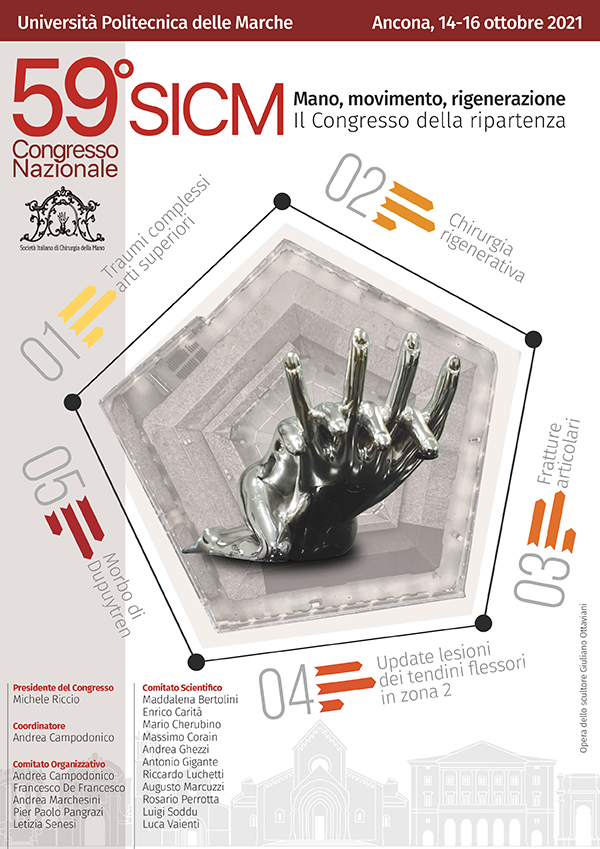 Biomedica Italia will participate as a sponsor at the 59th SICM National Congress: "Hand, Movement, Regeneration. The restart congress" to be held in Ancona at the Polytechnic University of Marche from 14 to 16 October 2021.
The objective of the event is to find "the right balance, in the context of the congress topics, between the more traditional techniques of our discipline, accompanied by statistical checks, and the technical and technological innovations capable of projecting hand surgery in the future "as confirmed by dr. Michele Riccio, President of the Congress.
During this event, on October 15th, with the aim of contributing to the work of the congress Biomedica Italia will host the workshop: "PELNAC ™ AND SKIN REGENERATION. NEW FRONTIERS IN HAND SURGERY" where distinguished speakers such as dr. Riccio (Ancona) dr. Maruccia (Bari), dr. De Francesco (Ancona) and Dr. Corain (Verona), will share their experience on the use of Pelnac ™ in their hospital activity.
For more information click here